Large Capacity Measurement Right on the Shop Floor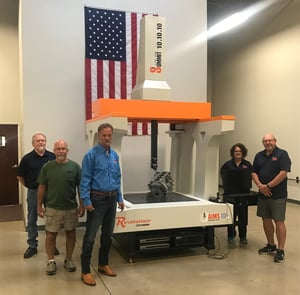 Summit 10.10.10 is a shop floor CMM designed specifically to measure large, heavy, or cumbersome workpieces. It has an extra-large capacity: 1,000 mm in X, Y, and Z axes for a total of one cubic meter of measurement space and a 2,200 kg weight limit. Unlike our smaller, portable shop floor CMM, the Revolution HB, Summit is stationary.
To stand up to the shop floor environment Summit features a polymer cast base, reinforced Z-axis, and materials that are thermally- and vibrationally-stable. As part of its space-saving design, Summit requires no shop air for operation. All that's needed is a standard 110/220-volt outlet, making it easy to integrate into the floorplan and workflow. It's especially useful for situations requiring a high percentage of part inspection during production because the CMM is right at the point of need.
Read the Summit 10.10.10 feature in Metrology News
Components
Summit is equipped with a REVO-2 five-axis probe head supported by a reinforced Z-axis. Five-axis movement allows for accurate and flexible measuring and high productivity, along with infinite positioning and rapid calibration. It also incorporates the latest REVO-2 sensors including RVP vision and SFP2 surface measurement. Options for touch trigger or noncontact vision measurement are available.
Watch the Summit 10.10.10 in Action
To make it easier to measure large and difficult-to-transport parts, Summit can be used with a robotic loading and unloading system or a conveyor. And to maximize uptime and throughput, it uses non-wear, zero maintenance, dual linear motors. It can also be equipped with automatic tool adjustment to compensate for tool wear over time. Summit runs on user-friendly MODUS CMM software, measurement simulation, collision prediction, reporting, user-friendly interface, full compatibility with REVO-2 hardware, and native DMIS support. More information about MODUS software is available here.
Key Features
Renishaw Revo-2 5-axis probe head
RVP vision and SFP2 surface measurement sensors
Touch trigger and non-contact vision measurement
1 cubic meter/2,200 kg capacity
Polymer cast base for vibration isolation
Temperature compensation design for thermal stability
Reinforced Z-axis to support probe head
Durable linear motors
Automation via robotic load/unload or conveyor for pass-through
Space-saving design
MODUS software