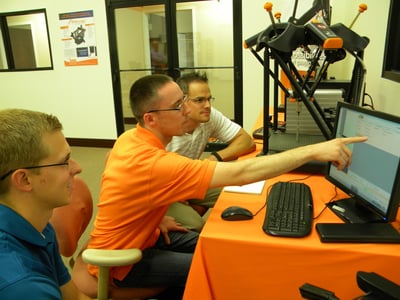 In metrology, the CMM hardware and measurement tools are only part of the story. You can improve throughput, traceability, and part quality with powerful software packages.
AIMS offers several value-added services to help you integrate software into your measurement processes, even if you're new to CMM technology.
CMM software and engineering support services:
Custom demos. We can write a custom demo based on a part you provide.
Contract programming. Our engineers can write custom programs for your CMM to augment your internal resources or if you're new to CMM programming.
Custom gauges. Our sister company, CMI Technology, manufactures custom hard gauges for high-volume measurement of identical parts. This high-speed option is faster than a typical CMM and provides measurement data instantly.
Custom fixturing. Fixtures that hold a part in place allow operators to easily load a part, run the automated measurement program, and retrieve it when finished. Fixtures can be designed and built from prints or parts.
Multiple part measurement options. We can create a system that allows operators to load multiple parts for measurement and retrieve them when the cycle is completed.
The AIMS Metrology difference
Comprehensive, turnkey services set AIMS Metrology apart. In addition to our full line of CMMs and custom gauges, we offer software packages that control the movements of the machine and gather and analyze measurement data.
Not sure where to begin? Talk to us about your production goals. Our experts can evaluate your needs and suggest the best solutions based on your parts, volume, cycle times, and quality concerns.
Our in-house engineers can help you create a complete system that makes measurement easier and more efficient. That allows you to get back to the work of manufacturing quickly!