REVO 5-Axis Measurement System

A REVO® system delivers high performance scanning, non-contact inspection and surface finish analysis on a single CMM.
The REVO® is designed to maximize CMM throughput while maintaining high system accuracy and uses synchronized motion as well as Renscan5 measurement technology to minimize the dynamic effects of CMM motion at ultra high measurement speeds. This is achieved by letting the REVO® head do the fast demanding motion while the CMM moves in a slow linear fashion.
The use of a flexible tip-sensing probe system further adds to the system's accuracy and flexibility. The removable probe system, used in conjunction with a low cost changer, provides added system flexibility.
REVO® is the biggest step-change in measurement capability that Renishaw has ever introduced to the market and the CMM user has ever experienced. A true Measurement Revolution. REVO® enables unrivaled measurement performance and speed, as well as true 5-axis capability.
Click here for more specifics on REVO®
Scanning Probes:
RSP2 5-Axis Scanning Module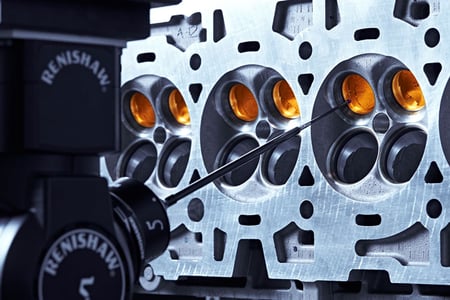 RSP2 is a dedicated lightweight probe for use on REVO systems, capable of 2D-scanning (x, y) and 3D touch-trigger measurement (x, y, z). The RSP2 has a universal body to which a number of different length stylus holders, with a minimum reach of 175 mm and a maximum reach of 500 mm, can be obtained.
The RSP works using Renishaw's tip-sensing technology. The use of this technology allows for the system to achieve the same accuracy regardless of the holder length.
There are 5 holders that change easily with the Renishaw RCP2 port as part of the MRS Rack system.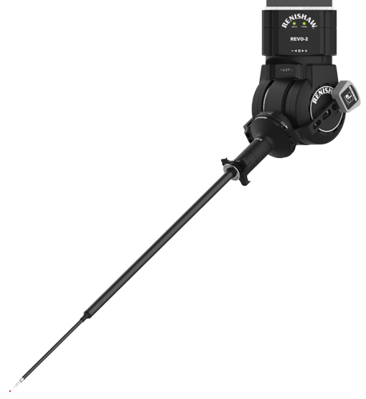 RSP3 Scanning Module
The RSP3 range of 3D scanning probes gives REVO-2 the ability to carry cranked stylus arrangements and enhanced capability for carrying long styli.
RSP3 uses an optical transducer sensor and a pivoting motion system similar to that found in SP25M system.
The RSP3-1 through -4 carry tips for reaches just over 200mm and provide 3 axis scanning as well as cranked tips for reaching into grooves and undercuts.
The RSP3-6 Series can reach long distances that are not achievable with indexable head systems. The RSH3-6-800 can reach 800mm from the center of rotation of the REVO head.
Surface Probes:
SFP2 Surface Finish Probe
Powered by 5-axis measurement technology, the SFP2's automated surface finish inspection offers significant time savings, reduced part handling and greater return on CMM investment.
The SFP2 system consists of a probe and a range of modules, which are automatically interchangeable with all other probe options available for REVO, providing the flexibility to easily select the optimum tool to inspect a wide range of features, all on one CMM platform. Data from multiple sensors is automatically referenced to a common datum.
Surface finish measurement is fully integrated with the standard CMM inspection program thanks to the automatic changing of the SFP2 probe and stylus holders using the MRS-2 rack and RCP TC-3 ports.
Click here more specifics on SFP2.
REVO-2 RVP Vision Probes:
The REVO vision probe (RVP) provides non-contact vision measurement on an infinitely positioning, 5-axis platform. Now, tactile scanning measurement, surface finish analysis and non-contact inspection can all be performed on one CMM.
VM10 vision module
The VM10 vision module can be used for inspecting features or holes that are typically larger than 1 mm, with a maximum field of view of 40 mm × 50 mm.
Typical applications for the VM10 module include the inspection of thin sheet metal parts like combustor casings for aerospace engines.
Click here for more information.
VM11-2 vision module
The VM11-2 vision module can be used for inspecting features or holes that are typically 0.4 mm or larger, with a maximum field of view of 10 mm × 12.5 mm.
Typical applications for the VM11-2 module include laser drilled cooling holes in aerospace engine blades and components.
Click here for more information.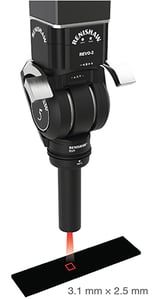 VM12 vision module
The VM12 vision module can be used for inspecting features or holes that are typically 0.05 mm or larger, with a maximum field of view of 3.1 mm × 2.5 mm
The Typical application for the VM12 module includes inspections of small machined features and EDM holes
RVP In Action
Ultrasonic Thickness Probe RUP1:
The RUP1 ultrasonic probe increases the multi-sensor capability of the REVO® system offering ultrasonic thickness inspection.
The probe uses a 20 MHz transducer and provides a thickness measurement range of 1 mm to 20 mm with an accuracy of better than 10 microns using touch points.
RUP1 ultrasonic probe is fully compatible with the MRS2 change rack and is automatically interchangeable with all other probes available for the REVO system.