Revolution® Air Bearing Large Bridge CMM
Precision and Efficiency in a Large Scale
The Revolution® Air Bearing Large Bridge (AB) CMM is the perfect answer to measuring larger components. Robust and easy to maintain, this workhorse has the features you expect plus service and support that goes beyond anything you expect. Driven by Renishaw's proven technology, the Large Bridge AB comes in a wide variety of sizes for all metrology applications.
Components
The Large AB is manufactured from granite to be wear resistant and free of internal tensions. The granite construction also ensures thermal stability and intrinsic accuracy, while detecting free-form surfaces and geometric elements with Renishaw's 5-axis technology and Modus™ software. Its X- and Y-axes guide ways are protected. The use of high-quality components ensures high machine longevity and active service – the modular design of the CMM also ensures that upgrading is easier, to protect your investment. As far as serviceability goes, it has easy access for its maintenance components which helps to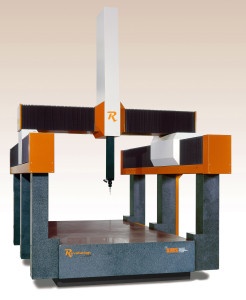 avoid costly problems. And, you can always count on AIMS training, service and support to further enhance your investment.
Inspection Software
Modus™ software from Renishaw is the backbone of the Revolution® operating system. The standard includes Native DMIS, CAD, Modus Organizer, and Graphical Reports. Options include Modus Gear, Modus Spline, Modus Airfoil, and MMclient. MMclient allows sharing between Modus and MeasureMax.