CMM-Manager software from QxSOFT (QuickSoft)
This intuitive 3D metrology software works with a range of manual, touch, portable, and CNC CMMs. It's affordable and easy to use and, best of all, it supports the equipment you already have – no new hardware is needed. CMM-Manager features a graphic user interface (GUI) for easy programming and probe configuration. Simply import CAD files and name each feature to be measured. Then set up target coordinates, axes, and measurements (e.g. length, width, diameter, circumference, radius, etc.). Specify the number, order, and location of touch points. You can also switch and calibrate tips for different features as needed. Pre-defined and customizable reports are included with this software package. These allow you to analyze tolerance ranges, check for outliers, visually compare the CAD features with actual part measurements, and more.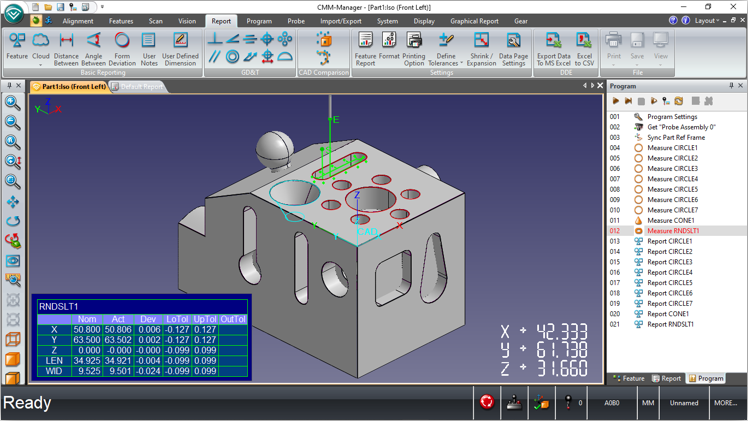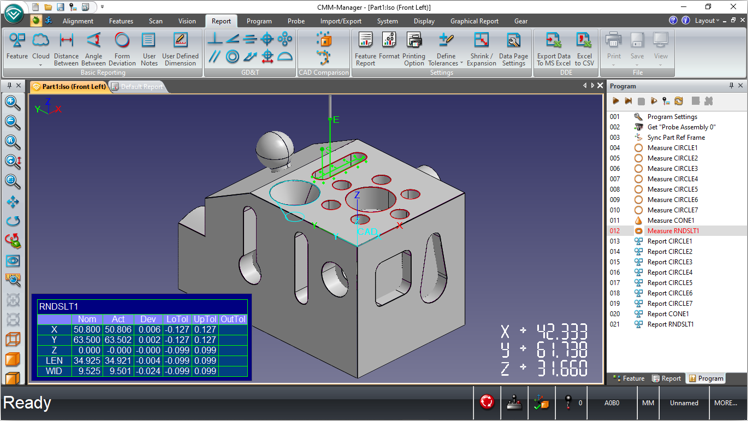 ---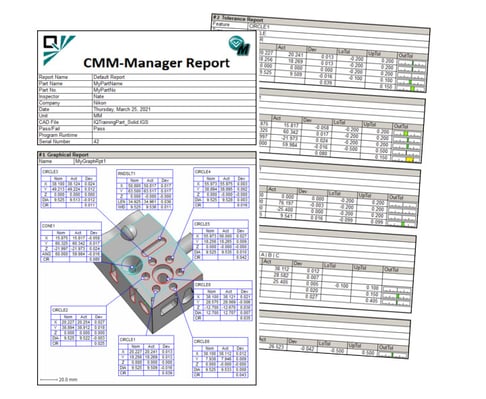 CMM-Manager's object-based interface allows CMM program creation without complex a text based programming language. CMM-Manager includes flexible functionalities, including graphical probe configuration management, automatic tip calibration, cross section scanning and group feature measurement. Simplify your metrology tasks using our intuitive yet powerful software.
Create text and graphical report document using intuitive dimensioning tools. After measurement, simply pick feature, assign tolerance, then drag-n-drop to place dimension in report document. Create graphical report views that display CAD, drawing, or actual part view along with report annotations for a visually compelling report document. Customize report header by adding images, and user prompted info such as serial or lot number. View, Print, or Save the report document automatically after inspection program execution.
---
CMM-Manager software supports these Renishaw probes:
| | | |
| --- | --- | --- |
| PH20 5-Axis | PH9, PH10 & PH50 | RTP20, MH20i, PH1, PH6 & PH8 |
| SP25 Scanning | TP2, TP6 & TP7 | TP20 & TP200 |
Contact us for more information