Revolution® HB Shop Floor CMM
5.9.4 & 8.10.6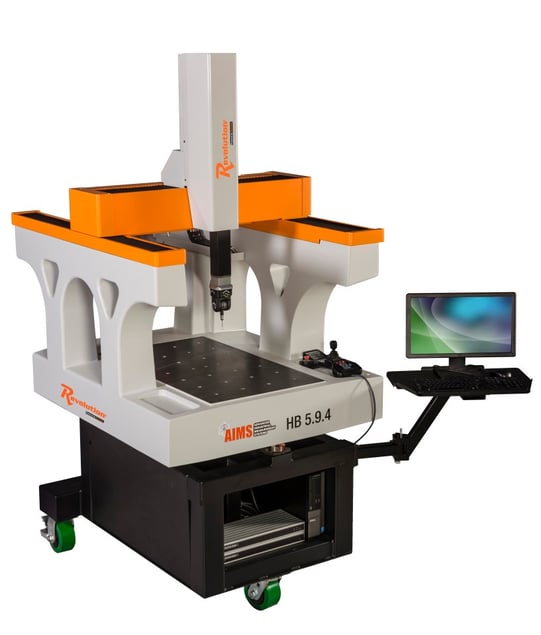 Mobility, 5-axis Capability, and Shop Floor Worthy All in One
This is the only mobile 5-axis shop floor CMM on the market, and is fully made in America. It features a roll-around stand, enabling movement of the Revolution® from one area to another. Casters can then be tightly locked to keep it in place. The added bonus of this mobility also includes its use of 110/220 volt outlets – there's no need for shop air. Attached to the stand, the Revolution®'s polymer-cast base includes built-in vibration resistance and thermal stability for life on the shop floor. Mechanical bearings also further help dampen the vibration abuse shop floors can offer. For the purposes of 5-axis capabilities, the Revolution® uses a PH20 probe head, which offers drastically improved accuracy and repeatability – performing 3 times faster than conventional probe heads.
Click here to read more about this CMM in CMM Quarterly.
Measuring Range
5.9.4 – X: 500mm Y: 900mm Z: 400mm
8.10.6 – X: 800mm Y: 1000mm Z: 600mm
Components
The Revolution® CMM comes equipped with Renishaw TONiC and FASTRACK encoder scale system – accurate to an extreme degree, fast, and offers quick and easy installation. Its precision drive systems can be counted on to be durable and give reliable inspections in any shop floor condition. Lightweight bellows and covers protecting the machine's components create friction-reducing, smooth-running and precise performance. Revolution®'s vibration dampers also further reduce the amount of shock and vibration to prolong machine life.
Inspection Software
Modus software from Renishaw is the backbone of the Revolution® operating system. The standard includes Native DMIS, CAD, Modus Organizer, and Graphical Reports. Options include Modus Gear, Modus Spline, Modus Airfoil, and MMclient. MMclient allows sharing between Modus and MeasureMax.
Process Control Software
Includes QC-CALC and Reaction Plan Manager. QC-CALC is a unique process control tool that provides the user with access to real-time data and builds a database of process performance. The powerful statistical analysis tools enable the establishment and maintenance of control over the entire process. Extensive analysis can be performed, including real-time numeric data collection and offline statistical analysis of recorded data. The Reaction Plan Manager is user friendly and displays clear, specific instructions to the operator on how to make adjustments to keep the process in control. This software uses 2 applications: one to build (Editor) and another to view (Viewer) Reaction Plans.
Watch the HB Shop Floor CMM at work. Video taken at the April 2018 ExpoMaq in Leon, Mexico.