REVO 5-Axis Measurement System

The REVO® 5-axis measurement system offers high measurement speed that accurately captures every detail of an object. The CMM system uses a flexible tip-sensing probe that performs several different measurement techniques, including:
Head touches: moving only the head of the measuring tool instead of the entire CMM
Circle scans: capturing thousands of data points per second to follow circular surfaces such as interior bores with a high degree of CMM measurement accuracy
Cylinder scans: measuring the inside or outside of cylindrical shapes along a helical path
Gasket scans: using established target points to capture irregular surface shapes and follow non-uniform paths
Section scans: measuring around the plane to completely capture the dimensions within an established section
Sweep scans:

measuring both curved and flat surfaces
Surface Probes:
SFP2 Surface Finish Probe

REVO® SFP2 surface probes are suitable for surface finish inspection operations, measuring the surface roughness of parts to ensure they remain within acceptable parameters. They can handle the inspection, profile scanning, and digitization tasks for measuring and documenting objects.
SFP2 systems feature:
Interchangeable probe options
Multiple sensors
Stylus holders
5-axis measurement technology compatibility
The probe's characteristics include:
Skidded probe design
Diamond stylus tips with 2 μm radius
Suitability for bores as small as 6 mm (0.2 in.)
Surface measurement capabilities for 6.3–0.05μm Ra
Data outputs in Ra, RMS, and raw formats
REVO-2 RVP Vision Probes:
The REVO vision probe (RVP) provides non-contact vision measurement on an infinitely positioning, 5-axis platform. Now, tactile scanning measurement, surface finish analysis and non-contact inspection can all be performed on one CMM.
VM10 vision module
The VM10 vision module can be used for inspecting features or holes that are typically larger than 1 mm, with a maximum field of view of 40 mm × 50 mm.
Typical applications for the VM10 module include the inspection of thin sheet metal parts like combustor casings for aerospace engines.
Click here for more information.
VM11 vision module
The VM11 vision module can be used for inspecting features or holes that are typically 0.4 mm or larger, with a maximum field of view of 10 mm × 12.5 mm.
Typical applications for the VM11 module include laser drilled cooling holes in aerospace engine blades and components.
Click here for more information.
RVP In Action
Introducing the RVP vision probe.
CMM Scanning Probes:
CMM scanning probes are measurements tools that generally remain in full contact with parts as they collect hundreds or thousands of data points per second. By employing continuous measurement techniques, they provide highly accurate measurements of overall forms, sizes, and positions. Similar to touch-trigger probes, they may also be used for discrete measurement operations.
At AIMS Metrology, we provide the following scanning probe models:
SP25M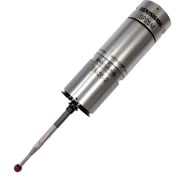 This scanning probe has a diameter of 25 mm and consists of two sensors within a single housing. It comes with a selection of five different scanning modules with lengths ranging from 20–400 mm and an adaptor module suitable for use with other Renishaw probe modules. These components enable the probe system to be used for continuous and discrete measurement operations.
Characteristics of this probe include:
Simple and durable design that does not rely on motors or locking mechanism
Fast and straightforward calibration cycles
Crash protection
Simple stylus setup/changing
It is suitable for use in profile and form measurement operations and on motorized indexing heads.
SP600
The SP600 line of analog scanning probe systems has capabilities for inspection, digitizing, and profile scanning. The line includes:
SP600, an 89 mm long probe that features multiple adaptor mounting options
SP600M, a 107.5 mm long probe with Renishaw autojoint mounting options
SP600Q, a 98 mm long probe with a direct in-quill mount
All of these probes offer excellent performance characteristics, including in regards to application flexibility, product durability and longevity, and scanning and measurement speed.
SP80 and SP80H
SP80 is a quill-mounted scanning probe that uses digital scale and readhead technology, plus Renishaw's innovative isolated optical metrology principles, to provide exceptional scanning performance, even with long styli.
SP80 is able to reach deep into parts by carrying styli up to 1000 mm long and 500 g mass, including star configurations which do not require counterbalancing. Renishaw's M5 styli products are designed to complement SP80 and ensure peak performance.
Key system benefits include ultra-high accuracy scanning by using digital readheads providing 0.02 ?m resolution, large stylus arrangement capability, up to 800 mm length and 500 g mass of unbalanced rapid dynamic response as a result of low suspended mass within the probe, and repeatable stylus changing for fast, flexible part inspection.
REVO® 5-Axis Measurement Systems & Probes From AIMS Metrology
At AIMS Metrology, we offer a wide selection of high-performance metrology probes and equipment to give industry professionals access to measurement systems that seamlessly integrate with Renishaw products. As an original equipment manufacturer (OEM), we provide customers with a one-stop shopping experience for their CMM needs. In choosing us as their CMM product provider, customers benefit from our:
High quality, high-performance products
Superior customer service
Expert training and programming services
Competitive prices
To learn more about our CMM systems and probes, contact us today. Request a quote to place your order or discuss your needs with our experts.