AIMS Applications & Programming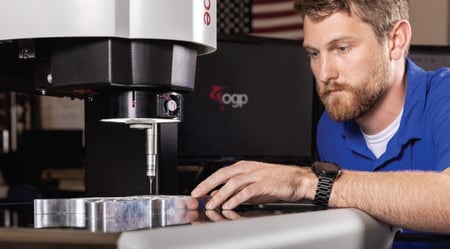 Whether you have an existing vision measuring machine or have a new machine on the way, our team can be a valuable resource to support your programming needs.
Our applications group has decades of experience supporting any gauging project. We understand the critical nature of production requirements and can build accurate high throughput programs or even optimize your current programs to help reduce cycle time for your inspections. When it comes to programming support for your vision system we know there is no one-size-fits-all approach, this is why we can apply our knowledge to provide a custom solution to your exact needs.
Basic programming assistance: We know you will have questions and run into a challenging measurement from time to time, that is where our AE staff steps in. The AIMS team takes pride in helping our customers get these quick answers.
Contract programming: Our engineers have extensive experience across many industries. Reach out to us with your unique needs and we will take it from there. AIMS offers full service custom programs to augment your internal resources or if you are in a time crunch with a fast-approaching deadline.

Start-up Programming: to get you going with your new machine. These programs can work as solid foundation templates to use as guides as new, future programs are developed.
Standard Programming: AIMS jumps in with our sleeves rolled up ready to deliver for those straightforward projects were you just need a solution fast to meet a deadline.
Advanced Programming: for difficult, complex parts – let our experienced staff take on your toughest programming challenges to ensure your system performs, and production can have confidence in the results.

Full Turnkey Programming Package: AIMS has become known for listening to customer needs and having them pass the keys over to deliver an end-to-end complete package including programming, required probing, fixturing, and training on the finished product.
Productivity Increases: The AIMS team can take your current programs and optimize them for better throughput and more repeatable results. We can even set the system up to run multiple parts to improve efficiency and free your operators to do other critical tasks.
System Training: We appreciate the learning curve of getting a new system up and going or the challenges customers face when they have turnover in their staff. We offer complete training packages, both in house and on-site. Click Here for more information.
Custom Fixturing: Almost all parts need to be featured on the system properly to get accurate repeatable results. Our applications engineers can develop simple fixtures utilizing the Renishaw modular fixturing components or more advanced fixtures built in house. At AIMS we utilize our factory precision machine shop that lets us control the complete process from design through manufacturing to ensure it works right the first time.


The AIMS Metrology difference
Our experience providing customers comprehensive, turnkey services set AIMS Metrology apart. In addition to our full line of CMMs and custom gauges, we offer superior customer support when it comes to servicing what we sell.
Not sure where to begin? Talk to us about your production goals. Our experts can evaluate your needs and suggest the best solutions based on your parts, volume, cycle times, and quality concerns.
Contact us so we can help you with your measurement challenge.