OGP Training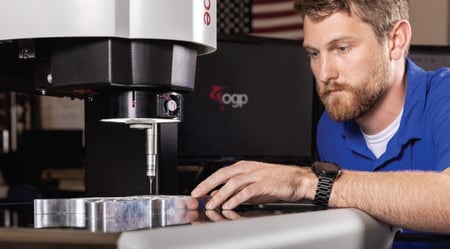 For customers that are new to OGP systems we can provide the correct foundation training to get you up and running with the right fundamentals for programming your system. Our experienced applications staff can also train existing users, so they gain more knowledge helping to be more productive with their programming techniques. We also appreciate that all companies experience turnover from time to time. Let us help by training your team to ensure your OGP can stay productive and not let staff changes become a bottleneck in your facility.
At AIMS we service what we sell, and our success is measured by your success. We offer a full range of training options to ensure you can have the best possible potential to master the programming requirements of your CMM. Our standard classes include:
MeasureX Level I (16 hours) We provide a solid foundation that ensures you can understand the basics of the software and how to build and edit programs.
MeasureX Level II (8 hours) This is our advanced class based around your needs. This is tailored to your probe system so the training is most beneficial to your applications.
ZONE3 Level I (24 hours) ZONE3 provides an intuitive graphical interface for the programming environment. Our Level I class covers the basics for building a solid program, graphical reporting and editing of the programs.
ZONE3 Level II (16 hours) This is the advanced class that covers the more powerful program tools within ZONE3. It is tailored to your needs so that it maximizes your team's' abilities with the software.
VMS Level I (24 hours) This class provides a good understanding of the powerful VMS software. It covers the foundation for customers to build and edit programs in VMS.
The AIMS Metrology difference
Our experience providing customers comprehensive, turnkey services set AIMS Metrology apart. In addition to our full line of CMMs and custom gauges, we offer superior customer support when it comes to servicing what we sell.
Not sure where to begin? Talk to us about your production goals. Our experts can evaluate your needs and suggest the best solutions based on your parts, volume, cycle times, and quality concerns.
Contact us so we can get you the training you are looking for.